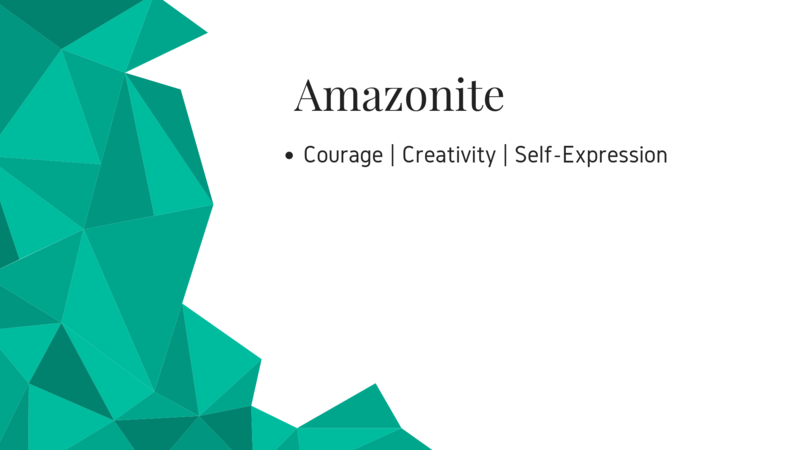 A Short and Sweet History

The ancient Egyptians, who made beautiful jewellery and ornamental pieces from this stone, made amazonite famous. The folk name for amazonite is 'the Amazon stone', named after South America's Amazon River. It was believed that amazonite was found there long ago, but mineralogists claim that no green deposits of feldspar exist in Brazil's Amazon. As a result, the stones were later assumed to be jade.
The most important source of amazonite is India and fine specimens are also found in Colorado. Other sources for Amazonite include various areas around Madagascar, Namibia, Brazil, Zimbabwe, Canada, India, Tanzania, Australia and the Soviet Union. Amazonite can also be found in the United States, mostly near Pike's Peak, Colorado, and in Maine.
Where on the Rainbow?
Amazonite ranges in colour from colourless, to white, yellow, bluish, pink, red, grey, or many different shades of green, from pale-green to bluish aqua-green. Sometimes its colour is referred to as apple green, however its actual colour is never quite so bright. The colour of amazonite is due to the presence of lead within the stone and variation may exist within a single stone. It is frequently veined with white or yellow bands.
Myths and Legends
Amazonite is associated with luck, money, and overall success; wearing it is recommended for gamblers. There are many old Brazilian legends about legendary female warriors known as the 'Amazons'. According to legend, the 'Amazons' would gift green 'amazonite' stones to all the men that would come to visit them. Amazonite is considered very valuable for artists as it releases the wearer's emotional grief by expressing it creatively. As a result, it is beneficial for writers, musicians, dancers, and other artists.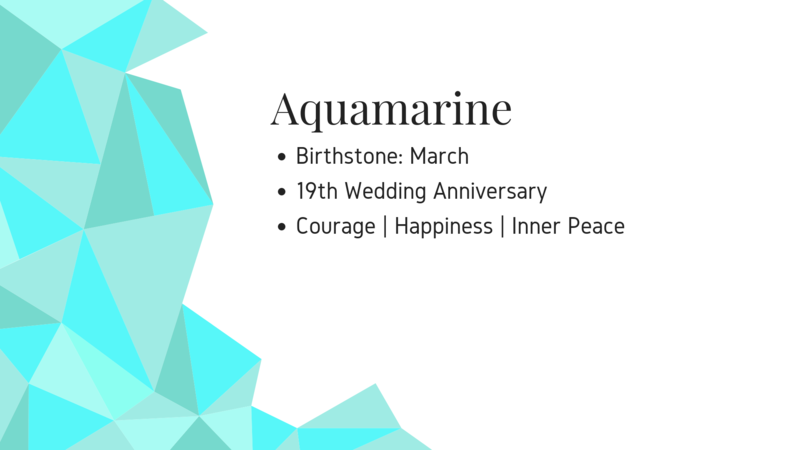 A Short and Sweet History

The name 'aquamarine' is derived from the Latin word for seawater. Aquamarine is a blue to green-blue gem-quality variety of beryl.
Where in the world?
The leading producer of aquamarine is Brazil. Other deposits of aquamarine are found in Australia, Myanmar (Burma), China, India, Kenya, Madagascar, Mozambique, Namibia, Nigeria, Pakistan, Zambia and Zimbabwe, as well as in several US locations. Karur, India recently has become one of the biggest suppliers of aquamarine.
Where on the Rainbow?
Aquamarine can typically be identified by its unique sea-blue colours. It is rather hard and has a glass-like shine. Aquamarine stones have excellent clarity and transparency compared to many other similar gems.
Myths and Legends
Legend has it that aquamarines were the prized possessions of many mermaids and would protect sailors from the dangers of the sea, including warding off sea-sickness. The Romans believed that if the figure of a frog were carved on an aquamarine, it would bring together enemies and make them friends. Another Roman legend was that the stone absorbs the atmosphere of young love. In Medieval times, the stone was thought to reawaken the love of married couples. It was also believed to render soldiers invincible. The Sumerians, Egyptians and Hebrews also admired and greatly valued it.


A Short and Sweet History

Blue Lace Agate is a member of the quartz family. It was discovered on a Namibian farm is South West Africa by George Swanson, the farm's owner, and he called it a "gem of Ecology" because the swirling blue and white stripes reminded him of the earth and the clouds.
Where in the world?
Blue Lace Agate is predominantly found in South West Africa, with some deposits also in Brazil, China, India and the United States. Some of the best pieces still come from a vein in the Namibian farm in which it was discovered fifty years ago.
Where on the Rainbow?
Blue Lace Agate is a light blue colour with delicate white striping in it. The blue colouration is caused by copper salts. It has a vitreous lustre and is opaque to translucent.
Myths and Legends
Types of agate have been found in artefacts of the Neolithic period and was used in healing amulets in Babylon. It is not a stone of protection but rather a stimulating, positive enhancer of communication and wellbeing. It is said to promote this through its emotional and balancing energies.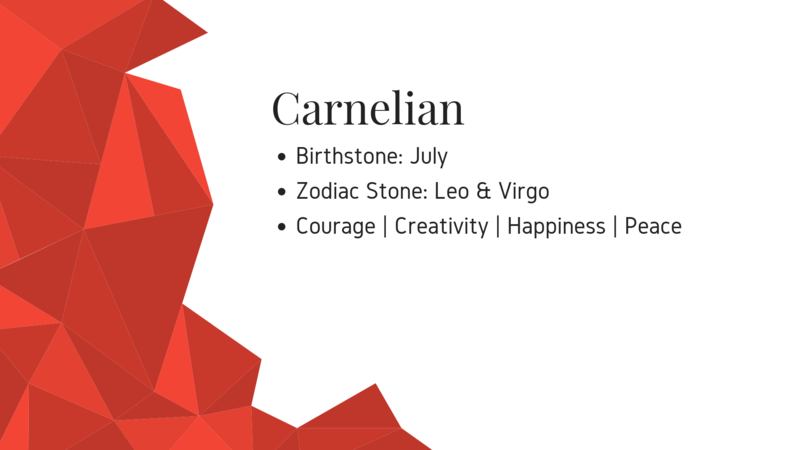 A Short and Sweet History

Carnelian is a brownish-red to red-orange type of quartz. Its name is believed to come from the Latin word carneus, meaning 'flesh coloured'. The distinctive red-orange colour of carnelian is a result of trace amounts of iron. It is one of the oldest known gemstones having been widely used in ancient Rome to make insignia and seals for imprinting on letters or important documents because hot wax does not stick to carnelian. Carnelian is one of the twelve gemstones mentioned in the Bible as appearing on the Breastplate of Aaron.
Where in the world?
Carnelian can be found in many places around the world, including India, Japan, Madagascar, Russia, Poland, Iceland, Slovakia, Peru and Romania. Large amounts are found on the lower Narbada river, in western India; Queensland, Australia; Bohemia, in the Czech Republic; Franche-Compte, in France; the Black Forest and Bavaria, in Germany; Cornwall, England and Ratnapura, in southwest Sri Lanka. In the United States, Carnelian is found in Connecticut, Florida, New Jersey, Tennessee and washington. The best stones however, come from India, where they are transformed from brown to red by being placed in the sun.
Where on the Rainbow?
Carnelian can range in colour from reddish orange to brownish, yellow, red or pink depending how much iron oxide is present. Stones can be faintly banded, or uniform in colour.
Myths and Legends
Carnelian was regarded as one of the luckiest gems to wear. Carnelian was used as a talisman by people dating back as early as the ancient Babylonians and Greeks and many Muslims believe that carnelian brings peace and happiness to its wearer.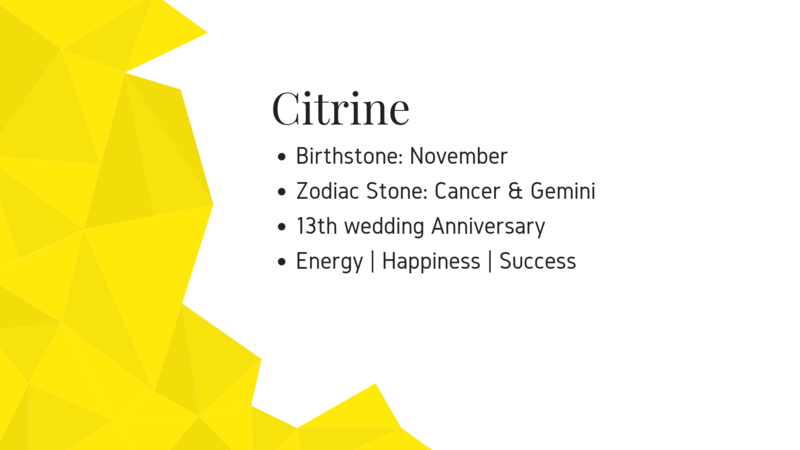 A Short and Sweet History

Citrine has been found in jewellery from ancient times; in Egyptian talismans, from the Greeks who carved rock crystal ornaments from larger pieces, and the Romans' jewellery and intaglio work, where an image or profile is carved into one surface of gemstones often set in signet rings. Citrine was used in Art Deco pieces between the two world wars when stones were set into highly decorative and prized pieces worn by Hollywood stars such as Greta Garbo and Joan Crawford; the stone's hardness makes it durable when carved into large cabochons.
Where in the world?
Most Citrine is sourced from Brazil, and other suppliers are in Spain, Bolivia, France, Russia, Madagascar and the United States (Colorado, North Carolina and California specifically). The source of the gem produces its own distinctive colour and hue.
Where on the Rainbow?
The name of this gemstone is derived from the French word for lemon, "citrin", and the gemstone's colours are said to derive from those of the sun. Citrine is a form of quartz whose yellow colouration derives from the traces of iron that it contains.
Myths and Legends
Citrine has been called the "healing quartz" because of its supposed ability to comfort, sooth and calm the wearer, releasing any negative feelings, sparking the imagination, and bringing new beginnings. It is also known as "the merchant's stone" because of its ability to attract wealth and prosperity.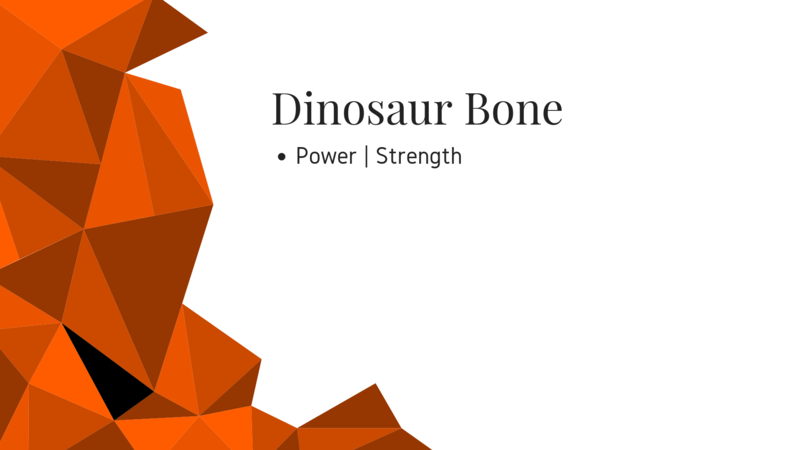 A Short and Sweet History
Formed from dinosaur bones in which the natural bone has been replaced by various minerals. Fossilised bone's cellular structure is replaced by quartz crystals. When it is translucent with patterns or bands then it is called agatized dinosaur bone, dinosaur gembone, or simply gembone.
Most dinosaur gembone is to be found in green sillstone beds and lower plains and rivers of Utah and Colorado in the USA.
Where on the Rainbow?
Gembone is found in an almost infinite variety of colours and patterns that depend upon the minerals that have permeated the natural structure. The most highly prized is canary yellow, whilst green, orange, red and blue are also desirable. Other factors that also affect the value of gembone are colour intensity, the cell or marrow pattern, the completeness of the bone and its skeletal origin, such as vertebrae or hip, and the presence of agate fortifications.
Myths and Legends
Gembone has been used as ornamentation with supposed magical properties since antiquity. It has been used to endow hunters or soldiers with power and strength, and to make weapons which were said to have great capacity for harm and damage.


A Short and Sweet History

Fire Agate is a rare type of quartz which shows a fiery rainbow-like effect. It is a natural gemstone found only in the surrounding areas of Southwestern United States and Northern Mexico. Iridescence is an optical phenomenon caused by light diffraction. Fire Agate was formed through volcanic activity that took place millions of years ago.
Where in the world?
Fire Agate can be found in only a few locations around the world, most significantly in Mexico and the Southwestern United States. Fire Agate deposits are found in the areas between Kingman, Arizona and needles, California, as well as the surrounding areas of the Colorado River. 
Mexican fire agate comes from the mines of Calvillo in the state of Aguascalientes, Mexico.
Where on the Rainbow?
Fire Agate has a brown near-blackish body colour. The brown base results from the iron oxide content. When viewed under light, rainbow-like effects can include a rainbow of colours including red, gold, green, blue and occasionally, blue-violet.
Fire agate is typically radiant to milky, with radiant stones being the most desirable. Like all agate, fire agate tends to have a slightly waxy to dull lustre when shaped and polished.
Myths and Legends
Even though agate was used as gemstones by the ancient Egyptians over 3,000 years ago, fire agate has only been available commercially since more recent times.
It is believed by some that fire agate can encourage healing, restoration and creativity and can also improve self-esteem and emotional balance.


A Short and Sweet History

Fordite is also known as "motor agate" a name that derives from its origins in the long since replaced hand spray paint shops of the American motor manufacturing industry. It is an entirely man-made by-product of the process of hand spraying cars and trucks on production lines that passed through ovens to bake the paint onto the vehicles, and the waste paint in a myriad of colours on the racks carrying them. After a while the super-cured layers had to be removed from the racks and workers with an eye for unique beauty realised their potential to be fashioned into collectible jewellery.
Automation of the lines and electro-static paint processes has now improved efficiency and removed waste, so Fordite is a historic relic of the early and mid-twentieth century car industry. Whilst some try to produce modern equivalents, genuine Fordite contains colours that were only popular in the period, such as pastel yellow or sea foam green.
Fordite is becoming increasingly rare as only a limited amount was collected.
Where in the world?
Fordite hails from the old factories of the car makers located in the USA. We use 1960's Fordite, hand cut and polished in the UK and the by-product of painting Ford Trucks in Kentucky, USA. 
Where on the Rainbow?
The colours of the paint layers in Fordite are a snapshot of American car making history. The oldest pieces have the black and browns favoured by the earliest manufacturers – remember the immortal words of Henry Ford, "you can have any colour you want, so long as it's black!"
As fashions changed and cars became a means of expression of individuality then colour crept into their finish, and into more recent samples of Fordite. In between the bright colours layers of grey primer paint can often be seen.