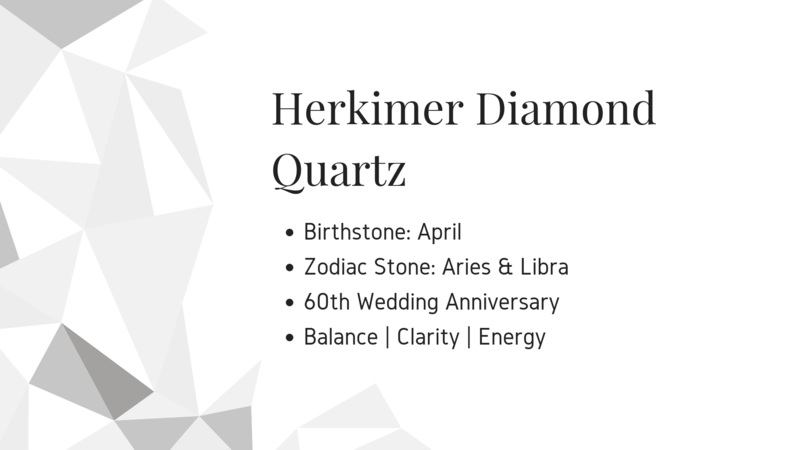 A Short and Sweet History

Herkimer Diamonds are named after the mines in Herkimer County in New York State from which they are obtained. It has been used as a name for over 100 years, but the Mohawk Indians and early settlers of the Americas knew of the crystals. The Indians lost interest in Herkimer Diamonds when traders introduced European glass beads. They are not diamonds but are in fact doubly terminated quartz crystals with a hexagonal cross-section at each end and also in the central area.
Where in the world?
Though they derive their name from the New York county in which they are mined, similar double terminated quartz crystals have been found in many places around the world, including Arizona, Afghanistan, Norway, Ukraine and China. These stones have a similar appearance but cannot be called Herkimer Diamonds.

The 
Herkimer Diamond Mine
 is approximately 4 hours drive from New York, but you can go prospecting for your own Herkimer Diamonds!
Where on the Rainbow?
They are not diamonds, but Herkimer Diamonds are so called because of their clarity and transparency with only diamonds matching their reflective properties.

Myths and Legends
Herkimer Diamond is also known as The Stone of Attunement because its double termination is thought to enable the wearer to attune to any situation or environment. It is thought to amplify spiritual energy and bring a sense of peace and serenity.


A Short and Sweet History
Jasper is found worldwide in an endless variety of colours that depend upon the minerals that are contained within the striations of colour. Ancient Egyptians wore Jasper scarabs as amulets, believing it to increase sexual energy. According to the Bible it is a gift from God that will be the foundation stone of the New Jerusalem. Both Asiatic and Native American Indians regard it as a magical rain stone. Imperial Jasper and Royal Imperial Jasper were not discovered until late in the twentieth century.
Where in the world?
Jasper occurs all over the world, but Imperial Jasper is found near the border of Jalisco and Zacatecas in Mexico, about 50 miles northwest of Guadalajara. The mining site covers a large area on a steep slope of a canyon. Royal Imperial Jasper can be found over the ridge to the east of the Imperial Jasper.

Where on the Rainbow?
Imperial Jasper comes in many colours, but each individual piece is usually limited to one or perhaps two colours. Royal Imperial Jasper is similar to Imperial Jasper but is formed in much smaller nodules with a white chalky skin. Royal Imperial Jasper is also known for its patterns of orbs, or eggs.

Myths and Legends
The Jasper group of gemstones are known as nurturer rocks and are used for balancing energies related to the base chakra. Imperial and Royal Imperial Jasper's recent discovery means that there are no ancient folklore or legends associated with it.


A Short and Sweet History

Labradorite's history is relatively short amongst gemstones, some of which were familiar to ancient civilisations. Labradorite was first found in 1770, on the Isle of Paul near Nain in the area of Canada called Labrador, in Newfoundland.
Where in the world?
Since its discovery in the place that gave it its name, Labradorite has been found in sizable deposits in Finland, Madagascar and Australia. Finish labradorite is a rare form which is also called Spectrolite, so called because it displays a spectrum of colours.
Where on the Rainbow?
Labradorite is a type of feldspar which shows a white or blueish light when the stone is turned. This effect is so unique that it is termed "labradorescence". The stone is grey to grey-black with colourful iridescence – the labradorescence effect, the result of light diffraction in the layers of rock. As well as the blue iridescent colour, labradorite may also be found as colourless, orange-red and brownish varieties. The shimmering orange-red stone is also called "sun stone" and originates from Oregon.
Myths and Legends
According to a legend of the Inuit Indians, the Northern Lights were once stuck in cracks in the rocks on the Canadian coast. A warrior's spear freed the lights from the rocks when it hit them accidentally, but those still trapped are the gemstones we now call labradorite.
Labradorite is thought to possess powerful protective properties for its wearer, helping them to find their true path in life. It is credited with having enlightening powers that provide wearers with insight. In Hindu belief systems, labradorite is associated with the throat chakra.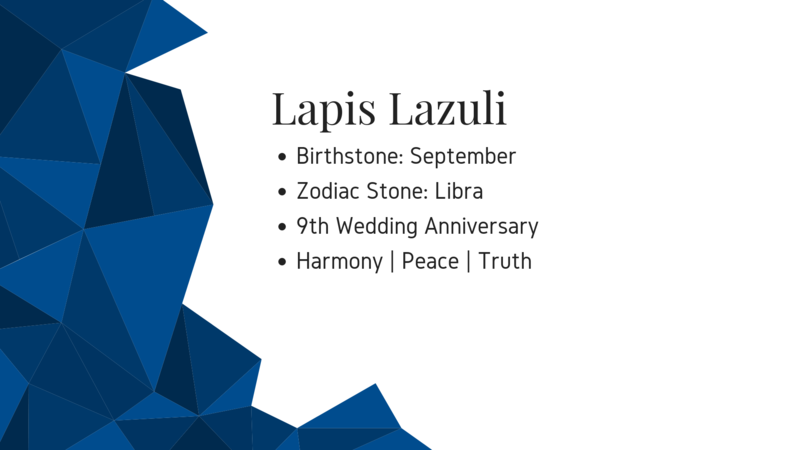 A Short and Sweet History

Lapis lazuli, often referred to as just 'lapis', has been used as a gemstone for thousands of years. It has been mined from Afghanistan since the early 7th millennium BC, and it was discovered in ancient burial sites as far as the Republic of Mauritania. The funeral mask for the ancient Egyptian pharaoh 'King Tut' was even discovered to have been decorated with Lapis Lazuli. This historical stone's name is closely connected with its intense colour. Its name was derived from the Latin word 'lapis' meaning 'stone', and from the Arabic and Persian word 'lazaward'. 'Lazaward" was the Persian name for lapis stone, as well as the name of its mining location. During the middle ages, ruling class art patrons demanded that painters use blue paint that was made from blue lapis.
Lapis Lazuli is found as boulders within limestone's. It has been mined in Afghanistan since ancient times. In fact, the ancient Egyptians probably obtained their supplies from there. Argentina is also a source of high quality stones. A pale blue variety occurs in Russia and also in Chile. The stone is also found in the US, Canada, Burma, and Pakistan.
Where on the Rainbow?
Although the colour of Lapis Lazuli is defined by its name, 'the blue stone', its colours can range from slightly greenish blue to violet, medium to dark, and from low to highly saturated. The blue comes from sulphur colouring agents.
Myths and Legends
For people around the world, lapis lazuli is considered a stone of truth and friendship. This deep celestial blue stone is thought to promote harmony in relationships.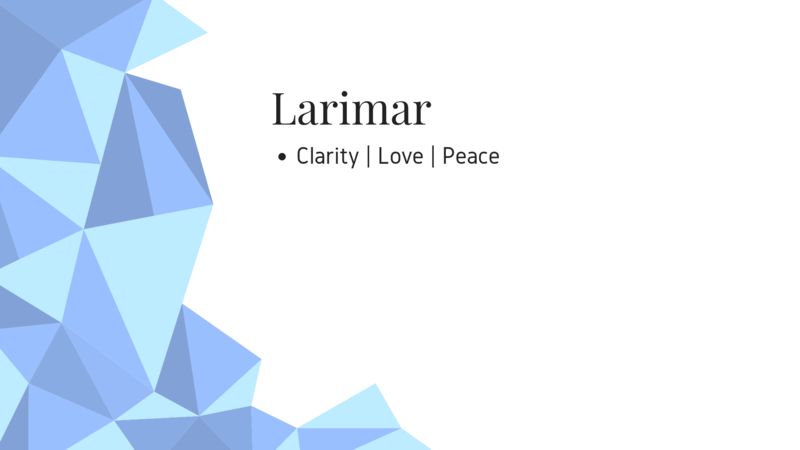 A Short and Sweet History
Larimar has only recently become a commercial gem stone. It has been claimed that its recent discovery came in 1916 but was forgotten about until 1974 when a local Dominican and a visiting American Peace Corps volunteer rediscovered it and named it after the Dominican's daughter, combining her name, Larissa, with the Spanish word for the sea – mar.
Where in the world?
Larimar is the trademarked name for this rare blue gem-quality variety of the mineral pectolite which is normally grey in colour and found widely. However, blue Larimar is found only in the Dominican Republic, where it is extracted in the Filipinas Mine in Los Checheses.

Where on the Rainbow?
Larimar gains its distinctive blue colour from its copper content. It ranges from a very light blue to a greenish blue and from medium sky blue to volcanic blue. It is rarely found in monochromatic form, usually exhibiting white circular marbling patterns. When polished it exhibits a silky lustre. 

Myths and Legends
Larimar has a long history beyond its recent commercialisation and in the Dominican Republic there are many myths and legends around its history. It is also called the "Atlantis Stone", based on old legends that the Dominican Republic was once part of the lost ancient city. This association makes Larimar an important metaphysical gem, with the belief that it can enhance spirituality and communication.


A Short and Sweet History
The name Malachite may come from the Greek word malakee, or malache, signifying its resemblance to Mallow leaves, or from the Greek word malakos, meaning soft.
Malachite was mined by the Egyptians between Sinai and Suez as long ago as 4,000 BC. It was also popular with the ancient Greeks and Romans as jewellery and ornaments, and powdered to make eye shadow. In more recent times Russian Czars used the stone for ornaments and as panelling for their castles. The Winter Palace in St Petersburg has a room called the Malachite Room which contains a large fire-place, columns, urns and vases made entirely of Russian Malachite.
Where in the world?

Malachite is found worldwide, particularly where copper is also found, but the thick banded type most popular for gemstones is rarer. One of the original sources was in the Ural Mountains of Russia and now the largest producer is Zaire in the Congo. Other deposits can also be found in Australia, Chile and the United States.
Where on the Rainbow?
It is basically copper carbonate and is a green colour and opaque. The shade of green varies from a pastel through bright to a dark variety which is almost black.  Pure single-coloured examples are found, but not used because of the far more interesting and desirable patterns of the gemstones with parallel bands and concentric rings.
Myths and Legends
Malachite is one of the oldest known gems and has found popularity as a healing and transformative stone. The pharaohs of ancient Egypt lined their headdresses with Malachite in the belief that it would help them to rule wisely and the brilliant eye shadow made from pulverised stone was thought to give clear vision.
In Switzerland and French areas of the Alps, Malachite is carved into green crosses to protect pregnant mothers; the collection of numbers of such ornaments have been the proud evidence of large families since the fifteenth century.
Worn as a talisman by children, Malachite is believed to give them protection from bad dreams and a greater sense of security.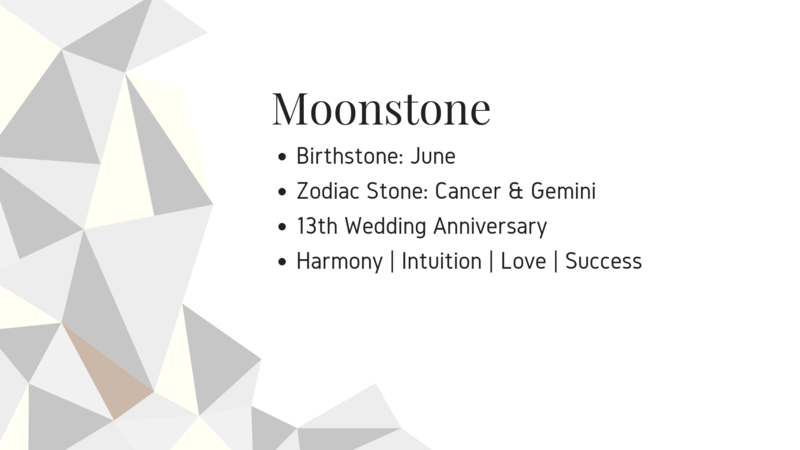 A Short and Sweet History
Moonstone comes from the mineral family feldspar. Fine gem quality moonstone is scarce and becoming scarcer. Moonstone was very popular in the Art Nouveau jewellery of the early 20th century. Men wore the stones in stickpins for their ties, in cufflinks, rings and mounted as ornaments on watch chains. Women wore moonstone in bracelets, brooches, rings, earrings and necklaces.
Where in the world?
Moonstone can be found in Ceylon, India, Burma, Mexico, Norway, Australia, Madagascar, Tanzania, the US, Brazil and Switzerland.
Where on the Rainbow?
Moonstone is whitish, grey-white, silvery-white, or milky-white with a soft blue shimmer that moves across its face as the stone is moved. The more shimmer the stone has, the more valuable it is. If the shimmer is of other colours besides blue, the stone is called 'rainbow moonstone.' This magical shimmer mimics the moon's glow, hence the gem's name.
Myths and Legends
According to Hindu legend, moonstone was formed from moonbeams, it was believed that if you held one in your mouth during a full moon, you could see your future. In India, moonstone is regarded as a sacred stone and it is widely believed to bring good fortune for those who wear it. In Arab countries, women would sew moonstone into their undergarments as a symbol of fertility. In ancient Rome, moonstone was associated with the moon. It was thought that the gem was formed from drops of moonlight and the gemstones were believed to possess the properties traditionally associated with the moon, including legends of romance, femininity, intuition, dreams, emotion and love.